October 26, 2016

Goree Taken 1758:
An Obscure British Victory That Changed The Course of History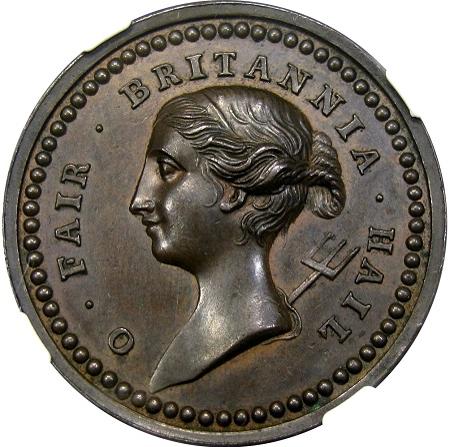 Goree is a tiny island, just off the West African coast of Dakar, Senegal. Goree Island was a Dutch plantation until it was captured by the French during their empire-building campaigns of the 1670s (Medallic Illustration, 691). With full command of Dakar Harbor, the fortified outpost protected the lucrative shipping trade of the greater Senegal region. In modern times, it has become associated with the African Slave Trade, but during our focus in the mid-18th Century, Goree was primarily a military instillation controlling the overall trade of Senegal (Wikipedia).
During the Seven Years War and related French and Indian War, 1754-1763, the British government became aware of the advantages both of taking Goree from the French, and of holding it for their own benefit. Initially, the British had not considered the rewards of controlling the lucrative trade of West Africa, as it was currently in the hands of their French enemies. However, in 1756, a diligent New York merchant, Thomas Cumming, approached and lobbied William Pitt, directly, with such a grand idea. In exchange for his agreement to guide a British expedition to Senegal and negotiating with the natives there, Cumming asked Pitt for personal control over all West African trade (Anderson, 306; The World Ablaze).
When Pitt took power in early 1758, the war was going badly for England, especially in America. Braddock's defeat and the loss of a string of forts along the great lakes enabled William Pitt to justify taking chances. Thus, Cummings was to get his chance; a small expedition was so embarked, according to Cumming's specifications, against greater Senegal (Anderson, 305). Successes to the north, on the Senegal River, were mitigated by an utter halt at Goree Island. Fort St. Francois controlled the flat, northern portion of the island, while Fort St. Michel dominated the hills of the southern half (Wikipedia). The meager British force was simply not strong enough to dislodge the French from their fortified island.
It would not be until late December, 1758, when a much stronger force was mounted against Goree Island, that the British would find their success. This assault was led by veteran commander, Admiral Augustus Keppel. Commodore Keppel had been a participant in Lord Anson's famed expeditions of the early 1740s, during the War of Austrian Succession. In 1755, his fleet had been charged with the transportation men and supplies of General Braddock's ill-fated expedition, at the beginning of this long war. Braddock and Kepple had become close friends during the voyage to America, and several dozen of Kepple's sailors were deployed with Braddock to move artillery over the mountains with Kepple's block and tackle equipment.
Now, Kepple had a chance to vindicate the memory of his fallen sailors and Braddock with his own victory against the French. With "four ships of the line," "two bomb ketches," and about 700 infantry, Keppel had little trouble bombarding Goree Island into submission, and the outpost surrendered on December 29th, 1758 (TWA).
The fall of Goree was, on its own, a minor success, but it capped off a momentous year for the British in their struggle for World Empire. Before William Pitt implemented his risky, global strategy, the British were soundly losing the war. However, 1758 marked a decisive turning point; the British were to claim multiple victories on four continents, and the campaigns of 1758 placed them in an overwhelming position of strength to bring an end to the French and Indian War in America. British control over Goree and other centers of global trade effectively cut off supplies to French armies (Betts, 185). On October 27th, 1760, George III, in one of his earliest official acts, appointed the first governor of Goree Island, William Newton, "a veteran of the 1758 expedition" (TWA). In 1763, the Treaty of Paris ended the Seven Years War and gave Goree back to France, though it was again taken and held by Britain during the American Revolution.
In early 1759, the capture of Goree Island was celebrated in England with a medal. Renowned engraver, Thomas Pingo, "under the auspices of Mr. Thomas Hollis," cut into the dies a design created by co-founder of the British Royal Academy, "Giovanni Battista Cipriani." The medal depicts Fair Britannia, paired with a trident on the obverse, surrounded by an inscription derived from the poetry of one Dr. Akenside and his "Ode on Leaving Holland;" i.e., "O Fair Britannia Hail." Poseidon's trident is an obvious allegory for Britain's naval might. On the reverse, the bowel of a Roman war vessel is decorated with a statue of Victory, "bearing a laurel wreath and palm branch;" again symbolizing their naval triumph. The motto reads "Goree Taken MDCCLVIII." (Betts, 184; MI, 691).
The edge of the Goree Taken medals is lettered with one of two inscriptions. A precious metal copy was given to William Pitt, which read "William Pitt Administring [sic];" another was presented to Admiral Keppel, which read "Augustus Keppel Commanding;" and copper medals were available to the general public, presumably with either edge inscription (MI, 691). The present, Choice Uncirculated, copper representative possesses the William Pitt Administring edge inscription. It is a sharply struck and remarkably well-preserved medal of this era.
Ironically, this medal almost did not exist. This Goree design was originally created for medals inscribed with the more popular Louisburg Taken motto, after that momentous British victory at Cape Breton Island in the summer of 1758.
Link: 1758 Louisburg Taken, Die Pair 1
Link: 1758 Louisburg Taken, Reverse Die Change
The Goree Taken version was simply created when a new die pair was engraved to read Goree Taken; that being only difference between the two medals. It is impossible to say exactly what prompted Pingo and Hollis to re-purpose their Louisburg design for Goree. However, the Louisburg Taken variety is well-known to have experienced major die failures, with both obverse and reverse dies splintering into pieces, early on. At least one new reverse die was prepared, but few pieces were ever struck (MI, 688). In fact, engraver John Kirk, also working for Hollis, produced a very similar medal to Pingo's Louisburg Taken design, probably to fill demand after the initial Pingo dies failed. It was struck on less sophisticated equipment, with less pressure and on a thinner planchet. While it did not have the same high relief design elements and rims as did Pingo's creation, it seems to have satisfied demand.
Link: 1758 Louisburg Taken Medal, Dies by Kirk
By the time new dies were ready for Pingo, the new public celebration was over the defeat of Goree, and Pingo simply inscribed a new motto to suit that victory instead. Kirk also carried his design on to commemorate another victory; Belle Isle, in 1761; so it was not uncommon for an engraver to re-purpose their design. Yet, rather than mere convenience, it seems more likely that Pingo repurposed his design out of necessity. With so few examples of Pingo's 1758 Louisburg Taken medal ever struck; and possibly never released; and Kirk's similar design meeting approval; Pingo was free to use his theme to celebrate the new West African victory, exclusively. And as we will see, his decision paid off.
As an aside, similar types of production issues occurred on the Goree dies, though a much better quality was achieved. A noticeable die chip developed on the reverse below the Victory statue, as well as a long, rugged rim break from 1:00 to 3:00. The consistent production problems might be an indication of poor die steel or some other deficiency of the equipment used to strike Pingo's medals in 1758 and 1759.
Collectors looking back today might think it seems as though there was a medal for everything. That is almost true. Medal collecting was high society in Mid-18th Century London. There were many devout collectors, promoters, and artists. They also had an entire organization; the Society Promoting the Arts and Commerce; dedicated to encouraging medalists and commissioning new medallic art. The Society commissioned several medals for the Seven Years War and French and Indian War, in which their initials, S. P. A. C., are engraved into the dies. Thomas Pingo was actually working for of the Society. And, while his Goree Taken medal does not show the anagram, it actually "won the prize" offered by the S.P.A.C. "for the best medal on this victory" (MI, 691). His repurposed design paid off in the end. Would it not be both fitting and ironic if the Society's prize for this honor was another medal?
Bibliography
Anderson, Fred. Crucible of War. The Seven Years War and the Fate of Empire in British North America, 1754-1766. First Edition. Vintage Books. New York; 2001 (p.305-306).
Betts, Charles Wyllys. American Colonial History Illustrated By Contemporary Medals. Ed. William T. R. Marvin A. M., Lyman Haynes Low. New York, Scott Stamp And Coin Company, Limited, 1894 (p. 185).
Medallic Illustrations of the History of Great Britain And Ireland to the Death of George II. Vol. II. Ed. Edward Hawkins, Augustus W. Franks, Herbert Grueber. London; Longmans and Company, 1885 (p. 688, 691).
Orme, Robert. Winthrop Sargent, M.A., ed. The History of an Expedition Against Fort Duquesne, in 1755; Under Major-General Edward Braddock. Philadelphia; Lippincott, Grambo & Co. for the Historical Society of Pennsylvania, 1855.
"The World Ablaze: An introduction to The Seven Years War." Fort Ligonier Museum. 200 South Market Street, Ligonier, PA 15658; 2016. Special thanks to Fort Ligonier, which displays of an exhibit on the campaigns of West Africa and Goree Island, including the original 1760, George III, Governor of Goree appointment.
Wikipedia; Goree. https://en.wikipedia.org/wiki/Gor%C3%A9e. October 22, 2016.