Based in the rolling hills of the historic, Pennsylvania Laurel Highlands; near the convergence of two famous British military roads of the French and Indian War; DM Rare Coins is celebrating its 18th year of selling rare coins and historic medals online! (All items are stored in bank vaults, and we maintain no retail facilities.)
From our first posting, back in 1999, our goal has been selling beautiful coins, shipping orders quickly, providing helpful answers to your questions, and offering a no-questions-asked return policy. We want to ensure your complete satisfaction with every purchase (we know it's hard to find just the right coin), and for our passion for numismatics to show in our work.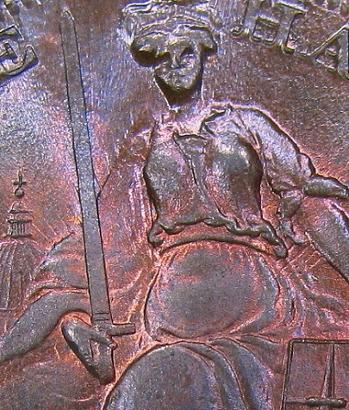 Doug, our founder, holds a Masters degree in museum studies and artifact preservation from Duquesne University, and finds ample applications for his knowledge of conservation not only working with coins, but also when called upon to perform consultations for local museums. Additionally, our company's extensive experience submitting coins to PCGS, NGC, and CAC gives us an edge over many other dealers. We have the eyes to select truly special coins out of the wide range of quality on today's certified market, making it easier for you to find great coins!
Our specialties include Capped Bust halves by Overton, Cherrypicker's Guide and related die varieties, Betts Medals and other Early American pieces, and Premium Quality United States coins. DM Rare Coins also offers a great Coin Photography Service for collectors and dealers, and we have introduced numerous educational blog posts and articles to share fascinating information about coins, as we learn it.

Coin Photography
Service

You need a photographic record of your collection. Have all your coins professionally imaged using the same realistic photography techniques we've used for a decade!

MAILING LIST!

Join hundreds of collectors receiving our original research articles, coupons, and announcements.


Many Thanks
to cointalk.com for ranking dmrarecoins.com

"One of the 25 best coin dealer websites!"

Customer Comments!

"A great photo of this colorful coin!"
G.H. of North Carolina, 2018

"Choice Proof Set. Very Happy, Much Thanks!"
P.B. of Illinois, 2018

"Great Franklin. Obverse tone is OK, but Reverse is superb!"
J.A. of South Carolina, 2018

"Hi, great service, nice product. Thank you."
W.W. of Washington, 2017

"Love the item. A pleasure doing business."
H.A. of New Jersey, 2017

"A very fabulous coin and tough to find! Thanks!"

C.W. of Arizona, 2017

"Perfect coin!!! Best Regards from Germany!!!"
M.O. of Germany, 2016

"One of the best coin sites ever."
W.H. of Michigan, 2016

"Exceptional Service in Every Respect. A Real Pleasure to Deal with. Thanks Much"
W.D. of South Carolina, 2016

"I have always wanted this coin. Thank you."
J.G. of Arizona, 2016

"An excellent purchase and I thank you. You guys ship the good ones :) "

M.W. of California, 2016

"Item is of superb quality. Remarkably fast dispatch. Notably dazzling packaging."
M.N. of California, 2016
"The Franklin DDR arrived today. Wow, this is a beautiful coin. Listing didn't do it justice. Great eye appeal!"
M.F. of Virginia, 2016

"Really great coin, exactly as described. I love it, thanks!"
R.R. of Connecticut, 2016
"Seller knows his products and stands behind them."
R.W. of Florida, 2015
"I am certainly impressed with the quality of your images!! They are exactly what I was looking for."
B.H. of Florida, 2015

"You made the Grinch Smile !!"
T.D. of Florida, 2015
"One of the best coin dealers I have worked with. AAA+++ in all ways. Thank you!"
B.L. of New York, 2015
"Perfect. Super fast shipping. The consummate professional. 5 stars!!!!"
T.M. of New Mexico, 2015
"Extremely well packaged! Great Service. Can you say perfect! Thanks!"
C.K. of Georgia, 2015
"Gorgeous coin, exactly as described; fast, friendly service. No worries!!!"
K.P. of California, 2015
"Nicest Washington-quarter ever seen!!!!!!!!!!! Thanks!"
M.B. of Europe, 2015
"I opened the padded envelope and said (WOW)."
G.C. of Illinois, 2014
"Great coin and great service. VERY happy! Thanks."
D.C. of Kentucky, 2014
"Great coin; quickly & carefully shipped. Good communications. Thanks much!"
E.R.S. of West Virginia, 2014
"Thanks for a problem free return. Highly recommended seller."
M.S. of New Hampshire, 2014
"Mesmerizing coin, terrific job packing and speedy delivery, 5 stars all day, tks."
J.Z. of Ohio, 2014